Another iPhone photo diary
Hello you lot. I hope you're all having a class week so far, despite the bitter cold! believe me, it was a shock to come from 30 degrees with 89% humidity in Singapore to this! wow.
I'm here again with another collective of iPhone photos from the last few weeks that I love. Some are things I've been up to and some are the all important outfits that I've been wearing a lot lately.
First up, this is little Lois our niece. She's honestly one of my favourite people in the world. She's also one of the funniest people I know- and she's not even 2 yet. James and I visited his brother, sister-in-law and little Lo a couple of weeks ago. We found a gorgeous country pub and went for a big Sunday roast. Lois is never still so we took it in turns to keep her occupied at the table with various activities ( I wish drawing was my strong suit but upon reflection, it is absolutely not and Lois put me to shame with her colouring skills). She's so fast too, you literally can't take your eyes off her!
I ordered these amazing cream wide leg trousers from Mango in the sale, and they are so comfortable and hang perfectly. I've worn them so much recently, mainly with converse and knitwear.
this is what my bedside table looks like.
I was lucky enough to be invited on an overnight stay at Soho Farmhouse with Uniqlo to celebrate the launch of their new loungewear collection and honestly it was one of the most amazing press trips. My friends and I have a running joke about Soho Farmhouse in particular, they have all been more times than they care to remember and I never have, and I've never been able to attend any of the trips I've been lucky enough to be invited on so you can imagine how excited I was to be there! And moreover, with Uniqlo, which is a brand I literally wear everyday, whether that's socks or their cashmere! We stayed in the Farmhouse which is the most amazing house, had dinner cooked in the dining room for us, and wore our loungewear whilst eating! It was the dream.
wearing skinnier trousers or leggings at the moment. Especially if I'm on my period or feeling bloated. Ultimate comfort levels.
with my friend Kim at Chiltern Firehouse and the food was amazing. We both had pancakes.
I am in a happy and healthy, one-sided love affair with these jeans. I am gutted because I think they're sold out and I have no idea why on earth Weekday wouldn't restock them! They keep an outfit interesting when all we feel like doing is wearing black and mourning the summer months. I got my hair done on this day too! Amazing Harriet Muldoon who works at Larry King in Kensington does it for me- she's the blonde queen and has been doing my hair for the best part of 3 years now.
This is an ode to my new mirror kindly sent to me by Soho Home- my absolute favourite for homeware. And also, to my pink Mango shirt
Here I am in those skinny leggings again. They are so good, and from H&M. They're really warm, have a seam at the front and little zips at the ankle too. They work well with something more chunky and oversized on your top half. For example, this wonderful jacket from & Other Stories which I refuse to take off. My pal Katherine took this after we'd both been for a revitalising juice because we'd been full of that strange cold virus for a couple of weeks. She moaned less than I did.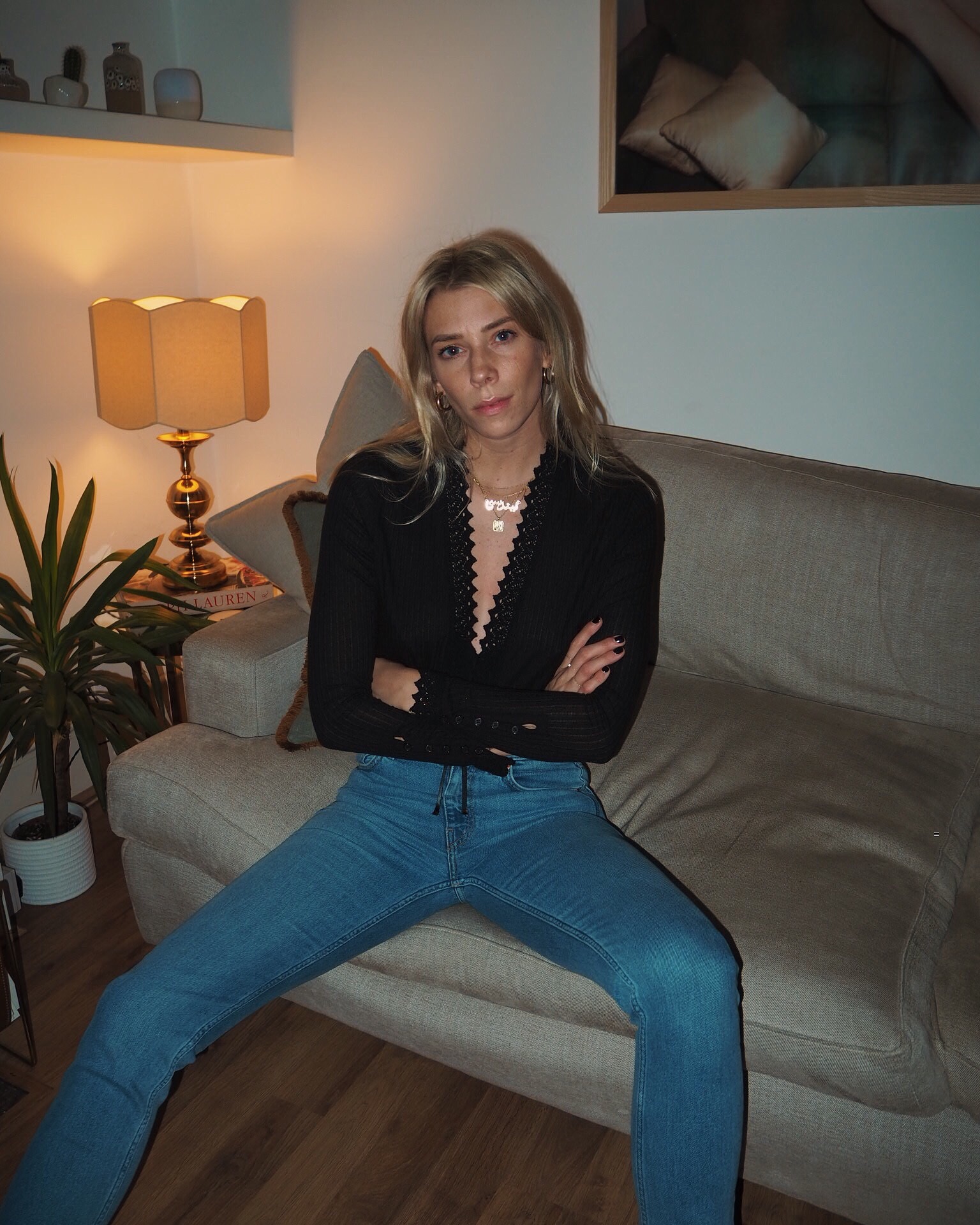 this was a shot I took for a partnership with the wonderful Free People who opened a store in Covent Garden recently. You should pop by- it's gorgeous. Plus this top is amazing.
This is me and James on our sofa at home in matching tracksuits. I'd been away for nearly a week in Singapore for work and I was so desperate to get home and see him. It is so, so nice to be home on my sofa!
Links to everything mentioned or shot:
& Other Stories knee high croc boots
& Other Stories cropped cream jacket
Thank you so much for reading and I hope you've enjoyed it. I'll be back soon with my big Singapore travel guide. xx