interior ideas for my new home
Hello you lot! I hope you're so well. Welcome to the first of many interior themed posts. As we get ready for a big old house move, all I can think about is interior, vintage, modern, one-off pieces and generally furniture that makes my heart sing!
Lucky for me, I've got mates with such great design taste so they've pointed me in the direction of some amazing places to look. This is a curated wishlist of the pieces I would love to have at the new house. Maybe you can help me whittle it down, too? because this is A LOT, but I can't help myself! It's all too exciting.
Let's start with a place that is full of treasure. A place two of my friends use religiously. And now, so do I. This place is Pamono and if you haven't checked it out- I urge you to. Whether it's vintage, one off, or those seriously hard to come by designer pieces, it's all here. And all starting at purse friendly prices too.
be still my beating, vintage bar cart heart. I fell in love with this bar cart. It would be such a great addition to our new front room. I love the dull gold and the perforated off-white shelves. Think of the amount of gin we could store on this! this comes in at £1156 which is a higher price point but quality design costs money doesn't it! plus it'll be a one-off.
honestly, your're about to see a real teak and cane theme appear in this post. I have such a thing for mixing light woods into more modern pieces and I really love the shape and tones in this coffee table. Imagine that with my gold tray of candles graveyard on it next to a cup of tea! This is priced at £3482. I know, I KNOW. I won't be buying all of these things, this is why I need your opinion.
Right okay, I can't deal with these chairs one bit. I am absolutely obsessed with them. They're French folding chairs and cost £272 for a set of 4! madness! They are from the 1970's and I think I absolutely need these regardless or I'll regret it forever and ever. Okay, I've bought them.
Next up is one of my other favourite stores. I have my linen bedding from here and it's just a dream to go to sleep every night.
this clear vase is so up my street, and is such a great price point at £42. I think this would look so great with flowers in or just as it is. In my basket… What do you think?
I came across this store, EESOME SHOP on Instagram and the curation is gorgeous. It's largely pottery based and just so beautiful. These sculptures are obviously amazing but have sold out so I'll be keep an eagle eye on site for when they come back into stock.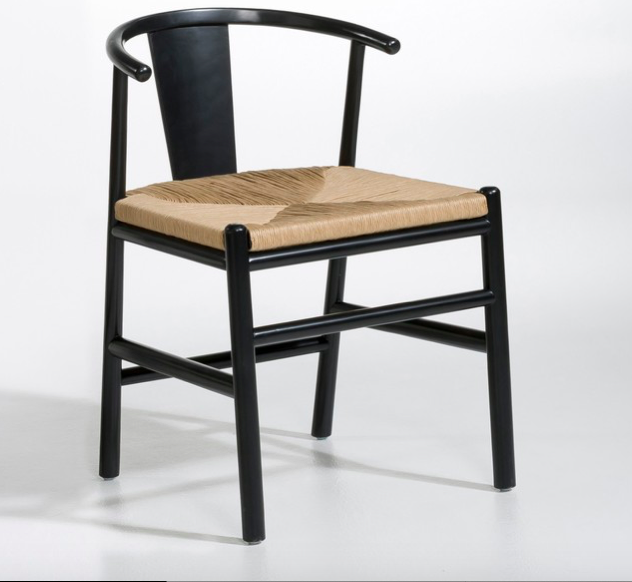 this wishlist wouldn't be complete without something from La Redoute. I have worked with them for years and absolutely adore their homeware selection. These chairs are firmly in my basket- because we're going to need two lots and these are flipping great. They are £209 each so a bit more pricey than the vintage ones but I know how well made they are.
So this ottoman is actually on it's way to me as a very, very kind gift from the brand, Houseology. They have the most amazing app too- that I'll be talking more about soon. They give you the option to take a photo of any piece of furniture you see and they find you the same, or alternative online! amazing. I fell in love with this ottoman- it's buttery soft, cognac leather and will fit so well into our front room. We do have an ottoman now but it's not wide enough for the two of us so this, solves that issue as well as looking like a dream.
Thank you so much for reading and I hope you have enjoyed a little look into my interior thoughts! I would so love to know your opinion too, the wish lists are burning a hole in my pocket!!
See you back here soon xx